Το φετινό καλοκαίρι στην Ελλάδα μας τα έχει κάνει μούσκεμα…πολύ βροχή, μήπως αυτό είναι ένα σήμα για να αλλάξουμε προορισμό?

Η ΕΛΙΞ ετοίμασε αυτή την εβδομάδα 21 προτάσεις σε όλο τον κόσμο στην Ευρώπη: Γερμανία, Πολωνία, Ιταλία, Φινλανδία αλλά και στην Αφρική: Τανζανία, Ουγκάντα και Κένυα.
Δεν έχετε παρά να διαλέξετε αυτό ή αυτά που σας ταιριάζουν, ΤΩΡΑ!!!
Γερμανία
1. IBG 38, AACH, RENO MANU, 18/08/18 - 01/09/18, 18-99.
Aach is a small village not far from Trier in Western Germany, near the border with Luxemburg. After a very positive experience in 2017, they are looking forward to welcoming again international volunteers to improve the infrastructure of the village. Both aspects are quite important for local community: the exchange with international volunteers and their concrete support. The village is situated in a deep valley, the different houses climb up the steep hills. If you participate in this project you will help villagers to maintain their local heritage and infrastructure. You will meet friendly people and discover a beautiful landscape where you will have the possibility to go hiking, make barbecues, discover nature, and have different activities together with locals (they are already waiting for you!). The number of excursions will be limited, but for sure you will visit Trier, the oldest German city with many Roman sights (as Porta Nigra), a famous cathedral, many clubs and events!
2. IBG 19 OBERESCH, RENO DISA FEST, 13/07/18 - 31/07/18, 18-99.
Do you want to participate in an inclusive project in Oberesch? Join this workcamp with multiple aspects! The local host of this project, VIB der AWO Saarland, is a charity organization offering jobs in workshops for people with mental or physical disabilities and initializing various inclusion projects. The workcamp will support them in their inclusion strategy, by creating new options for activities for their target group and offering new fields of (intercultural) experiences. You will support the middle-age-festival that is taking place in the nearby ruins of a castle and is attracting many visitors. For example, you will help to set up tents and stands and to offer activities for children. The three main aspects of the project are working, meeting and having fun together!


3. IBG 23, BERNBURG, RENO MANU, 22/07/18 - 11/08/18, 18-99.
If you participate in this project you will cooperate with experienced and motivated people, participate in lots of leisure activities and be in touch with young local people. This year, there might be also a common activity together with three youth parliaments. You will help to renew local playgrounds in Bernburg, a town with a history of more than 1000 years, situated in the eastern part of Germany. There are plenty of possibilities for leisure activities, such as visiting the town, taking an excursion to cities like Leipzig or Magdeburg, canoeing on the river, hiking, or simply making conversation with locals.


4. IBG 25, GRAEFELFING, MANU FEST, 23/07/18 - 01/08/18, 18-26.
In this wonderful project you will have the opportunity to support the Kulturfestival Graefelfing (www.kulturfestival.de) which runs since 1978 in a big park between Graefelfing and Munich. There will be 4 different stages for the program of different types of music, theatre, dance and programs for children. You will help the organizers in all phases of the festival. The main tasks will be setting up of all facilities at the festival site, as well as the disassembly at the end. While the festival is running, volunteers will assist in different areas, such as bar, stage, organization, catering, etc. You will work closely with the staff of the local non-profit organization that runs the festival. You should be flexible enough to work long and unusual hours and enjoy music. The townscape of Graefelfing is famous for its many villas from the beginning of the last century. The town is situated very close to Munich (18min by S-train from Munich Central Station).


5. IBG 26, HEILSBRONN, RENO ENVI MANU, 28/07/18 - 11/08/18, 18-99.
This interesting project is located in Heilsbronn, a beautiful small town in the idyllic Bavarian region. The famous cities of Nuremberg, Bamberg and Rothenburg ob der Tauber are not too far away either and might be visited on weekends. You will help with the maintenance of the Vita Parcours fitness trail. Your task will mainly be to clear the trail of over-grown plants. Besides, you will set up gardening spaces in the Naturlehrgarten, a park that includes several stations which explain environmental issues to visitors. In this park you might plant herbs and trees, as well as set up new paths.
6. IBG 27, KIRCHBERG / JAGST, ENVI CONS, 28/07/18 - 11/08/18, 18-99.
In this environmental project, your work will consist of constructing and renovating some hiking trails, hence helping the people of Kirchberg. The project is located in Kirchberg, a small town that offers a charming old city centre and a beautiful castle. You will also have the opportunity to go hiking or biking. Easily accessible by public transportation are several larger towns, such as: Schwaebisch Hall, Heilbronn, Nuremberg and Stuttgart.


7. IBG 29, WEIL DER STADT, KIDS, 28/07/18 - 12/08/18, 18-30.
In this beautiful project with children, you will help in the implementation of a summer camp for kids aged 6 – 12 years old: together with a group of German caregivers, you will support their free-time program! You are welcome to bring your own games, songs and ideas. The workcamp is located in Weil der Stadt, a town with almost 20.000 inhabitants and a very nice historical centre. Public transportation is good, so you can easily reach Stuttgart, as well as Karlsruhe or Pforzheim.

Πολωνία
8. FIYE802, CHILDREN DAY CARE CENTER 2, KIDS, 15/07/18 - 28/07/18, 18-99.
The workcamp is organized together in cooperation with the Sociotherapy Center for Youth Jedrus. The center provides education, boarding school and therapies for children with learning difficulties. Every summer they organize a programme for children from the local community, called "Summer in the City" and international volunteers help to organize free time activities for children. The daily program includes: games, sports, arts and amp; crafts, excursions, cinema outings, playground activities, swimming-pool, and other events. Volunteers are welcome to propose their own activities, such as intercultural workshops, games from their countries, and language workshops. The project is located in Michalin, a district of Jozefow, a small town in the suburbs of Warsaw, located upon the Swider river and surrounded by the Mazovian Landscape Park, well connected with Warsaw city center.


9. FIYE807, CENTER FOR PEOPLE WITH ALZHEIMER S DISEASE, DISA MANU, 19/08/18 - 01/09/18, 18-99.
If you are interested in working with intellectually disabled people, read more about this social project where you will take care of green areas; maintain cleanliness in the buildings; help with renovation of the building; and organize leisure time for patients.
10. FIYE811, NUMINOSUM FESTIVAL 2018, MANU FEST, 31/08/18 - 10/09/18, 18-35.
In this great project you will support the organizers of the Numinosum Festival 2018. This year is the fifth year that this lovely traditional music&dance event takes place in the heart of Kampinos Forest, 40 km from Warsaw, the capital of Poland. During the four days of the festival, there will be more than 15 concerts, a dozen of workshops (singing, instrumental, dance), guided forest trips, yoga sessions, family picnics and much more. The idea of the event is to promote Polish and European traditional dances and music (you will hear oberek and mazurek, kujawiak, polka, but also avant-deux, Scottish, mazurka, chappeloise, bourree, circle circassien, rondeau etc.). If this sounds cool, have a go and apply now!
Ιταλία
11. LUNAR 13, CILENTO BOOT CAMP, ARCH MANU, 14/07/18 - 23/07/18, 20-35.
If you are passionate about archaeological sites have a look at this project, aimed at making the archeological site of Civitella more accessible, as well as at giving you the opportunity to understand and experience countryside. You will help the local team of volunteers to maintain and manage this wonderful place. Moio della Civitella is a small village in the Cilento National Park, situated close to the Amalfi Coast and Napoli.


12. LUNAR 12, TULARE- HARVEST AND THRESHING FEAST, FEST AGRI, 13/07/18 - 27/07/18, 18-99, extra fee 20 Eur.
The farm Tularú, located on top of Mount Ponzano, is a cultural and agricultural project, a center of sustainable production which aims to use the cultural value of the traditional production techniques, in order to create participation. According to them, the bread produced in their farm is the bread of the whole territory because everyone has been involved in production. They constantly use sustainable practices in agriculture and organize many events.
The aim of this workcamp is to prepare everything for the Feast, a festival dedicated to agricultural activities with lots of music, workshops and events. For the first time this year a nearby farm (Colle Berardino) will organize another harvest festival supported by the workcamp LUNAR 10 in Rocca Sinibalda. The two groups will closely cooperate! The group in Tularù will help in Rocca Sinibalda and the group from Rocca Sinibalda will help us during our festival in Tularù.


13. LUNAR 17, BRIANZA HILLS, ENVI, 28/07/18 - 11/08/18, 18-99.
By participating in this environmental project you will contribute to the work of Circolo Ambiente, a local association which, in collaboration with schools, makes interventions and experiences about environmental education, hence sharing ground knowledge about territories, environment and ecology with children and young people. In this project, besides environmental work, volunteers will also help in the organization of the events of Alzate, Lurago and Brenna Pulita (by giving guided visits, welcoming visitors, etc.)
Φινλανδία
14. ALLI28, JURVA ART CAMP, ART, 05/08/18 - 18/08/18, 20-99, extra fee 40 Eur.
The goal of this interesting project is to create a piece of communal art together and to set it up next to a nature trail in Jurva, in Western Finland, 65 km from Vaasa. You do not need to be professionals, just interested in the theme and willing to learn. The work will be led by two Finnish artists!

15. ALLI25, ARCHIPELAGO FARM 4, RENO ENVI, 26/08/18 - 02/09/18, 20-99, extra fee 40 Eur.
Volunteers will take part in various renovation work in the Itatalo farm, such as painting walls with traditional paint and fixing walls and windows, etc. The farm uses ecological materials and methods. Be ready to participate in a wide variety of tasks, such as tidying the environment, assisting in kitchen, etc. The project is very suitable for volunteers interested in traditional building and ecological living. Itatalo is located in the beautiful archipelago of Kustavi near Turku in western Finland, about 150 km from Helsinki. The farm, which is about 12 km from the village of Kustavi, is by the sea, so sauna and swimming are available.
16. ALLI17, GROWNUPS, EDU CULT, 29/07/18 - 05/08/18, 25-99, extra fee 150 Eur.
If you participate in this workcamp you will help to maintain the surroundings of a folk high school in Punkaharju, in eastern Finland near Savonlinna, about four hours by train from Helsinki. The school is situated in a location of superb natural beauty, right on Punkaharju ridge. It is surrounded on both sides by lakes and magnificent scenery. The area offers excellent opportunities for nature and outdoor activities. You will be able to join Finnish language and culture presentation, as well to learn about the Carelian culture.

Αφρική (Διαβάστε εμπειρίες εθελοντών της ΕΛΙΞ σε προγράμματα στην Αφρική)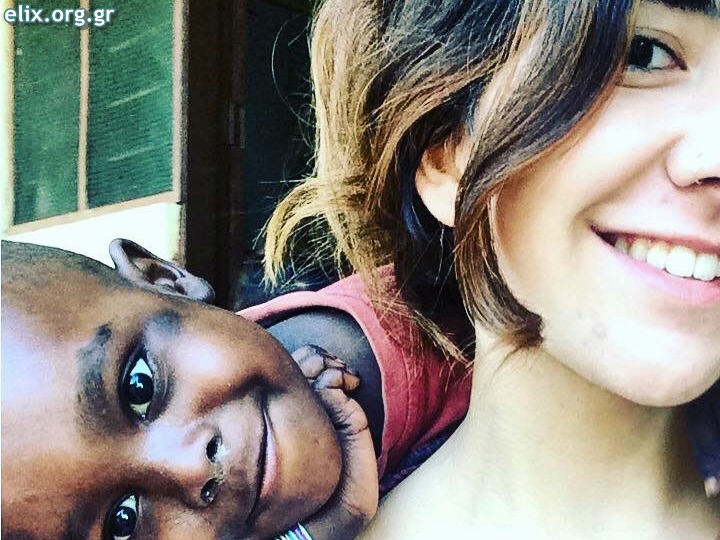 Τανζανία
17. UV-B-1814, ZANZIBAR: MUSIC AND AMP; ARTS FOR COMMUNITY ACTION, SOCI CULT ART, 04/08/18 - 31/08/18, 18-99, Extra Fee 300 Eur.
In this creative and artistic project, located in Pemba Island, you will be engaged in a variety of activities, such as interacting with local musicians, artists, and members of local society in order to talk about music and share information; teaching English to local young people; learning and practicing some African music and dances. You will also participate in sustainable community mural painting in public places, drawing images with sustainability messages for exhibition, songs composition, drama and other artistic activities.

18. UV-A-1822, CHILDREN FOR BETTER FUTURE, SOCI KIDS MANU, 18/08/18 - 31/08/18, 18-99, Extra Fee 250 Eur.
In this great project you will be engaged in the renovation and painting of school classrooms; in drawing symbols that simplify reading and learning for children; establishing garbage disposal sites including trash bins in the classes; and providing education on how to separate and dispose garbage. Moreover, you will organize extra-curricular activities for kids and teenagers (7-17 years old) after school hours. This could be sports, games, English Language, arts, crafts, remedial classes mostly for mathematics subject etc., depending on your interest and skills.
19. UV-A-1826, DREAMING CHILD, KIDS CULT ART, 01/09/18 - 14/09/18, 17-99, Extra Fee 250 Eur.
In this project you will organize social activities for children in the community aged 6-13 years old after schools hours, for example sports, games, support to their academic development, language, social skills, arts, craft, coloring, music, etc. You will also listen to children's dreams and organize activities which will give them power and courage to move forward; among other initiatives.

Ουγκάντα
20. UPA 07 18, INTERNATIONAL WORKCAMP ON CULTURAL DEVELOPMENT, SOCI EDU CULT, 03/09/18 - 22/09/18, 18-60, Extra Fee 250 Eur.
This artistic workcamp will offer you the opportunity to discover local culture and live intercultural exchange, while learning traditional dances through lessons carried out by a trained instructor. You will also attend modern dance workshops, hence learning basics of Hip-Hop and Break-dance. You will also attend a Drama Workshop and there will be the possibility to develop small scenes, depending on volunteers' skills.
Κένυα
21. KVDA/STV/09A, ST. JAMES COMMUNITY ORPHANS SCHOOL, KIDS EDU, 01/09/18 - 22/09/18, 18-99, Extra Fee 300 Eur.
The topic of the workcamp is the HIV Stigma and discrimination in Kenya. This project has the objective of providing well-being for numerous orphans and destitute left behind as a result of HIV/AIDS pandemic. There will also be the possibility of learning Kiswahili and other international and local languages, since cultural diversity is a major component in international voluntary service. (διαβάστε την εμπειρία της Μπέτυς σε αντίστοιχο πρόγραμμα)